Hello again, crafty friends. Today's blog post is a bit different than my normal card making posts. Summer is almost here and school is winding down so I have been working on a gift idea for my son's teachers for the end of the school year. I decided to create Summer Travel Kits and wanted to share the process to hopefully inspire you to create one as a gift too.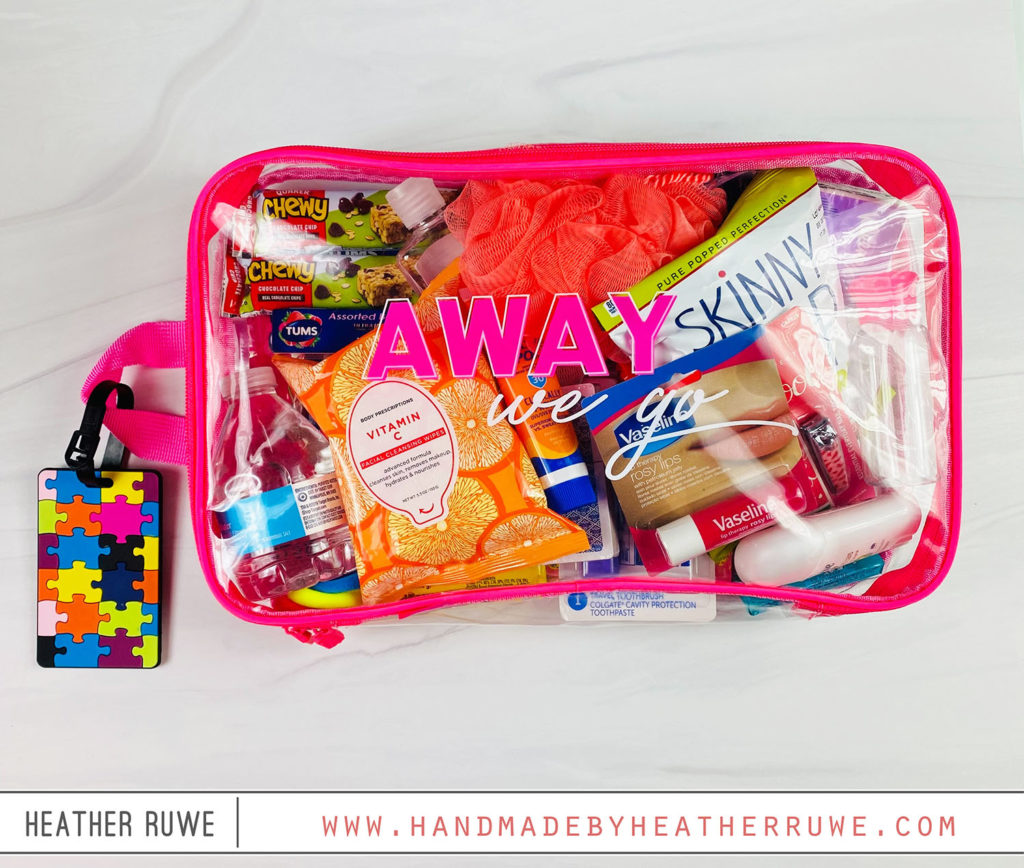 VIDEO
You can watch the video on how I created these cards HERE or click on the video below…

So I spent some time and made a list of things I was looking for. I shopped at three different stores for all of the items…Target, Marshalls, and the dollar store. I needed to make five travel kits total for my son's teachers and staff members at his school. The total to create one of these travel kits was around $25. Keep in mind, you can go bigger or smaller with this idea to fit your budget.


So let's take a closer look at what I purchased. I broke this down into categories.
The first category is Personal Items such as beauty and medicine. I purchased a set of mini nail polish bottles which worked out great since I had multiple kits to put together, face wipes, tissues, tums, lip balm, first aid items, hair ties, ear plugs, a toothbrush, deodorant, a nail kit, and a bath sponge.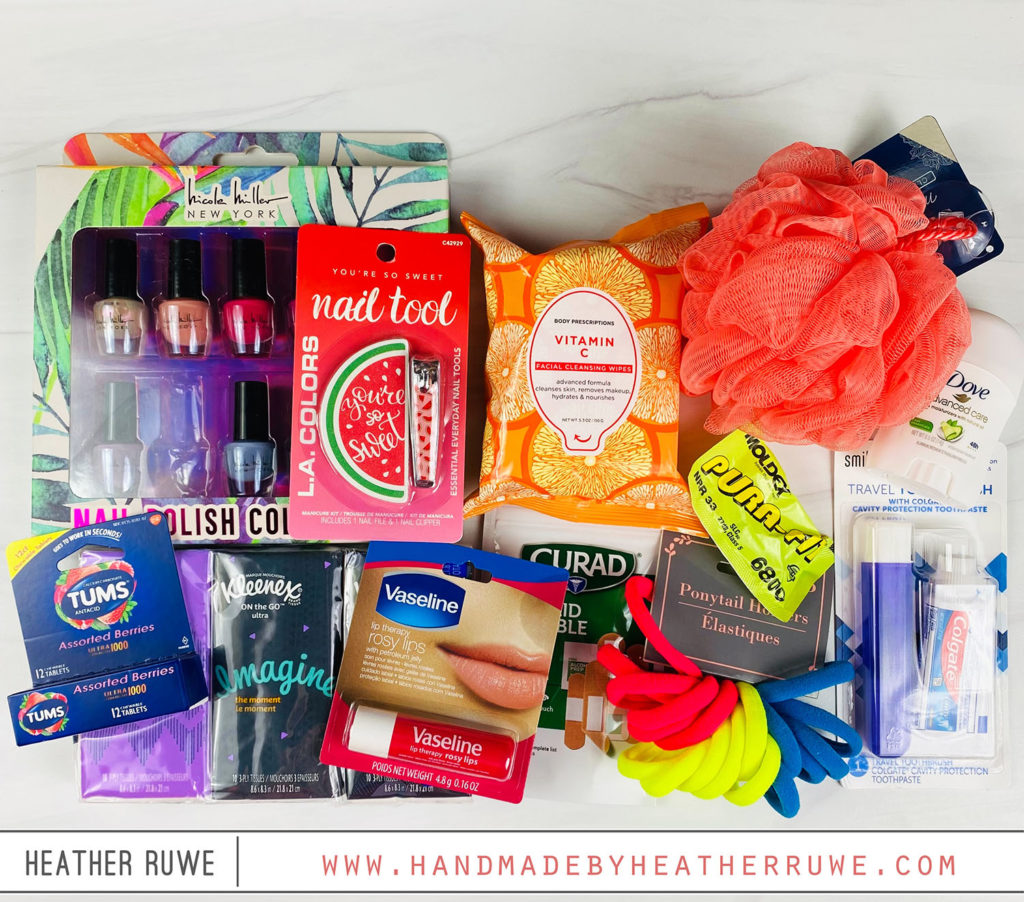 The next category is Food and Drinks because what is a road trip without some snacks!? I included a small bottle of water along with some flavored drink packets, gum, popcorn, candy, chocolate, and granola bars. At the beginning of the school year, each teacher filled out what their favorite things were so I was able to purchase the snacks that they like.


The final category is Misc. or bonus items. Each kit received one of these clear travel bottles so they could fill it with whatever they would like, clorox wipes, a luggage tag which I used to put each teachers name on, a deck of cards, and a donut shop gift card.


Now let's take a look at what I purchased to place all the items in. I found these super cute packing cubes at Marshall's and they come in a pack of three. A large, medium, and small.


Keep in mind, there are many other items that would work great for this theme. Sunglasses, a book or magazine,  a gas gift card, or even a beach towel are a few other items that would make a great addition. The luggage tag is a great place to put the recipents name and I just attached it to the loop at the end of the packingl cube.
Here's a look at the other finished travel kits. This is the medium size packing cube and it holds all the items just as well as the large cube…


This is the smallest packing cube. I had to remove a couple of things like the water bottle and popcorn bag but it held the remaining items comfortably…

Here's a complete list of the items I purchased for these Summer Travel Kit Gifts…
*Packing Cubes
*Travel Bottles
*Luggage Tags
*Mini Nail Polish Set
*Pedicure set
*Face Wipes
*Bath Sponge
*Deodorant
*Toothbrush/Toothpaste
*Lip Balm
*Tums
*Tissues
*Hair ties
*First Aid Kit
*Clorox Wipes
*Playing Cards
*Gift Card
*Bottled Water
*Drink Mix for water
*Popcorn
*Granola Bars
*Gum
*Candy/Chocolate
I also wanted to share the cards I will be placing inside the travel kits. Each kit will receive a handmade card with a summer theme…


Click HERE for more information on this card.


Click HERE for more information on this card.


Click HERE for more information on these cards.


Click HERE for more information on this card. 
I hope this inspires you to create a summer travel kit as a gift.
Thank you so much for stopping by. Have a great day!