HI there. I've been having so much fun experimenting with Distress Oxide Inks lately and wanted to do some direct stamping with it. Because of the pigment ink properties in it, it stamps beautifully. I created two cards with a similar design but a very different background look using these inks…
For the first card…
I chose a feminine color scheme and stamped a variety of
THESE
stars using warm colors. After stamping, I lightly misted it with some water and dried it. The ink reacts with the water and starts to bleed a bit. I only sprayed lightly because I was working on regular cardstock, but you could spray more for an intense look if you use watercolor paper.
For the second card…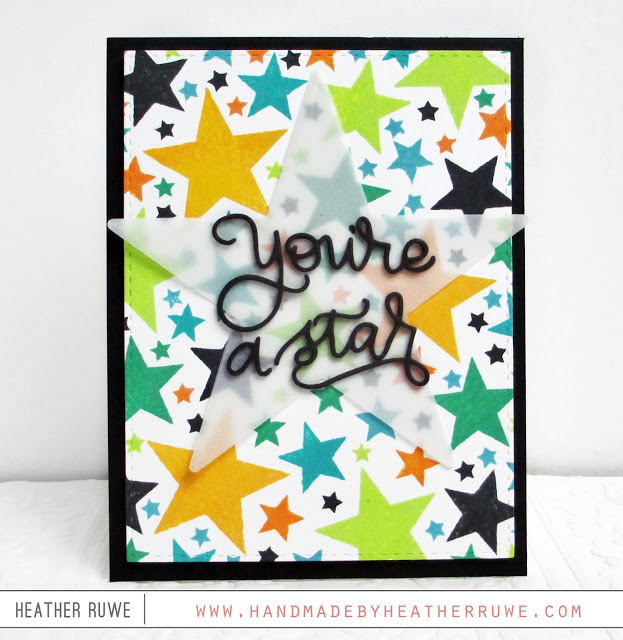 I did the same stamping with the same images, but didn't add the water. This is just regular stamping. I just love these inks because they give such good results.
Here's a closer look at each side by side…
I also wanted to share a few tips when finishing off these cards…
-I used vellum to create a focal point for my sentiment to sit. When you have a busy background, the vellum tones down the pattern but still allows the design to show through.
– For the sentiment, I die-cut
THIS
die using fun foam. Fun foam holds up great when going through the mail.
-I adhered the sentiment differently on each card. Don't be afraid to place things differently than how it looks on the package. This is a great way to get more use out of your dies.
-Sometimes I struggle placement of embellishments. I took a cue directly from the die on where to place the small stars around the sentiment on the pink card.
I hope this inspires you to experiment with your Distress Oxide Inks and create different background looks.
Thanks so much for stopping by. Have a great day.
LINKS TO SUPPLIES USED: