Hello and welcome. I'm so excited to be joining Jennifer for the Share Handmade Kindness Challenge. I feel so blessed and honored to get to work with her on a weekly basis. Her talent is absolutely amazing…but her kindness? It makes my heart want to burst. She is always thinking of others and trying to brighten their day. I'm so proud of her and I appreciate her creating this challenge to add more kindness into this world. Kindness matters and she is a perfect example of that. Love you Jennifer!
So my favorite way to share kindness is to create Sunshine Boxes. I've put together a video sharing two boxes I made….
The first box is for a friend of mine who needed a little pick me up. I recycled a box from a recent My Favorite Things order because of the fun text on the packaging…
I used yellow duct tape to hide any text that I didn't want to be seen and adhered a piece of patterned paper on top to write the recipient's address on. When the box is opened, the recipient is greeted with THIS card…
All the information regarding this card can be found on
THIS
blog post.
Here is a look at some of the goodies inside the first sunshine box…
I try to make every item practical. For example, I purchased a yellow towel to wrap the items in. Not only does this serve as a cushion for the items as it goes through the mail, but it ties in nicely with the bath sponge and candle.
For more information about the speech bubble card set, click
HERE
.
A closer look…
I wanted the next Sunshine Box to be geared towards kids and a little less expensive. I found a bright yellow lunch box at my local dollar store that I thought would be the perfect container….
Since I'm hand delivering this, I thought it would be fun to display the card in the handle of the lunchbox. Check out
THIS
blog post if you want more information on the card.
Here are the goodies inside…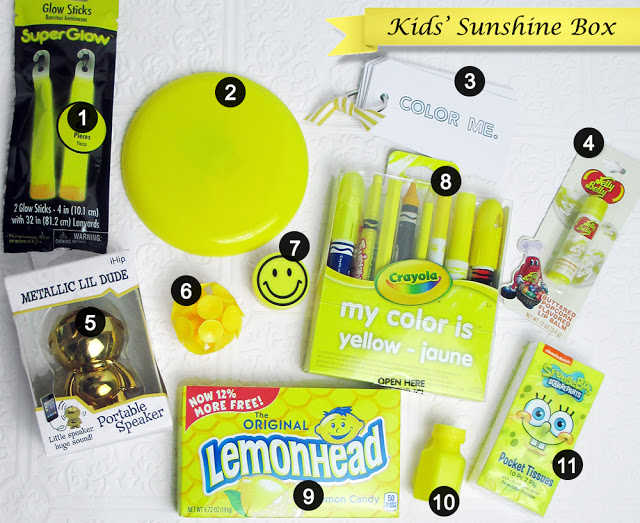 I like to include handmade items inside as well. I created a coloring book to use with the marker set included by stamping different images with black ink on to several tags. I used a book ring to keep them all together….a fun spin on a coloring book.
Towards the end of the video, I also talk about products that would work well with creating Sunshine Boxes….
*Click
HERE
to see a card I created using this Neat and Tangled set.
Remember, there are no rules when creating Sunshine Boxes. You can go elaborate or really simple. It's the thought that counts! I hope this inspires you to create a sunshine box. Remember to use #sharehandmadekindness when sharing on social media.
Now let's continue the celebration of spreading kindness with a GIVEAWAY….
I have put together a crafty sunshine box for one lucky winner! Leave a comment below telling me your favorite way to spread kindness. You have until Saturday, November 14th at midnight EST to enter. Good Luck.
Thanks so much for stopping by. Now go spread some sunshine. 🙂
LINKS TO SUPPLIES USED: