I'm still coming down from my high from last weekend's craft retreat. In case you're new to my blog, every spring and fall I attend a craft retreat with some of my friends. Some old, some new, and we always have the best time. Click
HERE
to see last retreat's gift.
I always like to create a little something for the girls and this retreat I gave a notebook/pen set….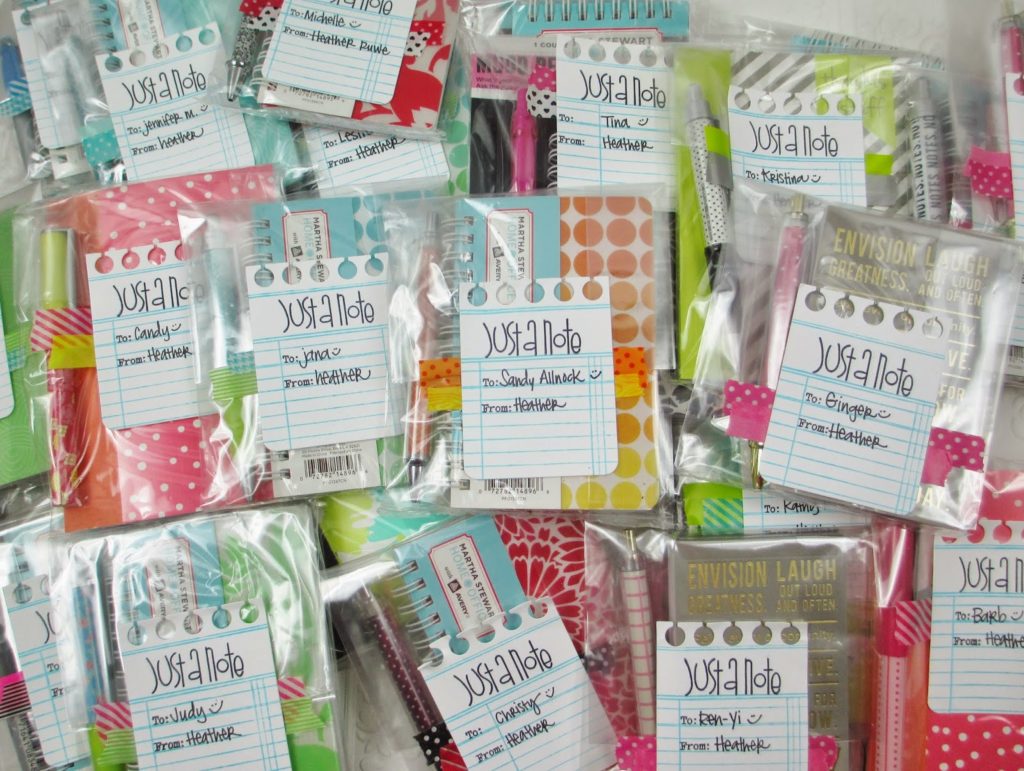 I've collected these for awhile. Most of the notebooks were purchased from Staples and a few from Target, which is where I got all of the pens.
I tried to think which notebook and pen styles each person would prefer. For example, my sweet friend Tina…
…is so much fun. She is a ray of sunshine and I just knew she would love the mood pen in her set…
A few examples of some other notebooks and pen sets…
I decided to decorate the front using THIS awesome notebook die and THIS stamp set from Paper Smooches….
…and
THIS
Ledger Hero Arts Background stamp was perfect in finishing off the notebook look. Adding a few coordinating strips of washi tape to hold the bag closed added a little color.
GIVEAWAY TIME
I have two notebook/pen sets left from the retreat. For your chance to win, just leave a comment here by midnight EST on Tuesday, October 28th telling me what you would like to see on my blog in the future. I would love your input!
Oh, and the winner from
THIS
post of the SSS November Card Kit is Blissmade Designs. Congrats! Hit the CONTACT button on the top of my blog and email me your address so Simon Says Stamp can mail out your kit! 🙂
Thanks for stopping by! Have a great day!